Ohio is probably the last place you'd expect to find a beautiful island, but there are actually four. They are located in Lake Erie, and you don't need a passport to visit them. Consider a vacation or day trip to Kelley's, South Bass, Middle Bass, or North Bass Island. Each has its own attributes. If you come in on a private boat (or rent one) you can visit them all.
The best place to start your island adventures is from Sandusky. It's only about an hour from Cleveland Airport. Keep in mind when planning that some businesses on these islands are only open spring through fall. Check before you go if you are looking to visit a specific place.
Put-in-Bay/South Bass Island
If you are looking to make a vacation around one of the Lake Erie islands, Put-in-Bay, also known as South Bass Island, would be the one. It has everything you would need to enjoy with family or friends for a long visit.
The main attraction here is Perry's Victory and International Peace Memorial. This National Park honors those who fought the Battle of Lake Erie in the War of 1812. If you climb the staircase that leads to an elevator, you will see unforgettable views of all four of the islands.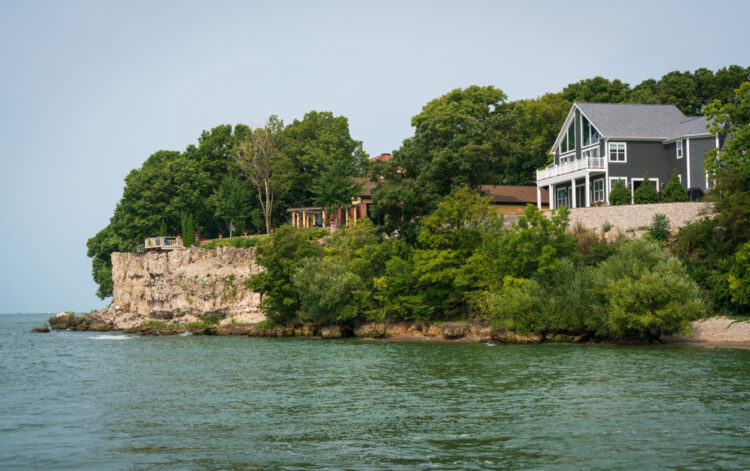 Put-in-Bay has a downtown that looks like a vacationer's paradise, with places such as the historical Round House Bar, where you can get a bucket of beer, and Mojito Bay, where you can sit on a swing instead of a bar stool and enjoy the Cuban drink in a selection of flavors. There's also the Islander Inn, a popular hotel with a swim-up bar. It's just one of many guest houses and hotels on the island.
On all of my trips there, we rented a golf cart and had lunch at the island's most famous spot, The Goat Soup & Whiskey. Their Perch Tacos, Pierogies, and Reuben balls deserve the accolades they receive.
Another great spot on Put-in-Bay is Heineman Winery for some Pink Catawba. If you want something even sweeter, there is Put-in-Bay Chocolate Café.
You can take Miller's Ferry to Put-in-Bay, with or without your car.
Kelley's Island
It's hard to pick favorites, but I had an amazing day on Kelley's Island with my friends. We rented a golf cart and found our way around the highlights. Most of them revolved around food, drinks, and scenery.
The Village Pump is where it all started, with a blender and ice cream. The Brandy Alexander was first served there in 1983. Soon it was a symbol of Kelley's Island as other bars and restaurants tried to copy it. The Village Pump one is still the best in my book. I did try a few of the others to be able to make that statement.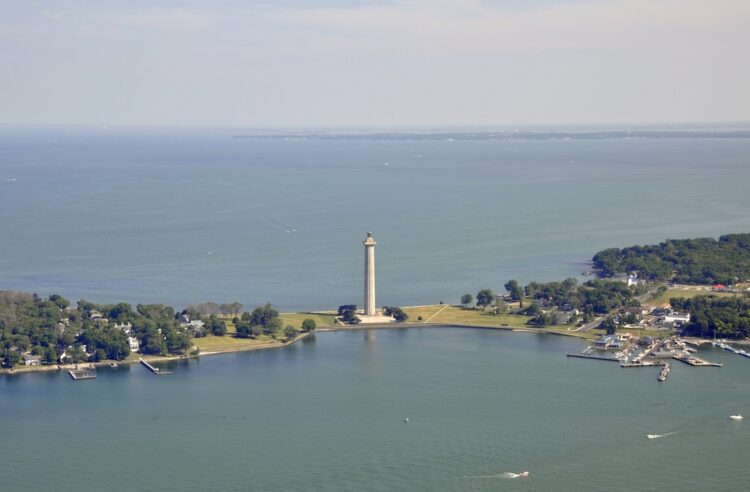 The Brandy Alexander isn't the only popular drink on this Ohio Island. Kelley's Island Winery, which also has oversized cheese plates, Crocked Tree Vineyard, and Monarch Winery and Butterfly Box all offer tastings and bottles for sale. There is also Kelley's Island Brewery for beer lovers.
If you'd like to stay on Kelley's Island you have options. The Venture Resort is full-service accommodation with a pool and spectacular views. Then there is the Eagle's Nest Inn and the Inn on Kelley's Island.
The Kelley's island ferry leaves from Marblehead, at the point of the port Clinton peninsula. It takes passengers and cars. The Jet Express leaves Sandusky for Kelley's Island and is a passenger only boat.  
Middle Bass Island
Nestled between Kelley's Island and South Bass Island (Put-in-Bay), Middle Bass offers more of a get-back to nature feel.
The foliage here is mesmerizing and you'll find Middle Bass Island State Park at the center of it all, though it is unusual for a state park to have a winery. Lonz Winery opened in 2017 in the park, with exhibits in its cellars. The park also has concessions, geologic sites, fishing, biking, and hiking.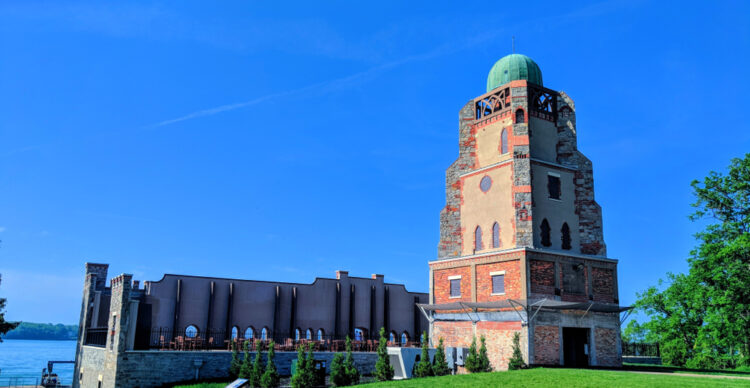 Middle Bass also has a Kuehnle Wildlife Area. It's just two acres, but it is a protected area for the Lake Erie water snake, a threatened species, wading birds, and migratory songbirds.
The only hotel here is the Middle Bass Inn. There are also vacation house rentals, a campground in the state park, as well as one in St. Hazard's Resort.
To get to Middle Bass Island you can take Miller's Ferry from Sandusky with or without a car.
North Bass Island
The state park of North Bass Island takes up most of the land and it has an interesting history. It was formed by glaciers with massive ice sheets moving from Canada to this spot in Ohio.  You can still see some of this in the dolomite bedrock of the North Bass.
This island is about relaxation, with fishing, hiking, kayaking, and wildlife views. You won't find a winery here, so bring your own. There is a Lake House and some apartment rentals. Camping is allowed with a permit, but don't expect amenities.
The only way to get to North Bass Island is by a personal boat or plane. None of the ferries stop here.