U.S. Virgin Islands
Copyright: Matt Wade/cc by-sa 2.0/Flickr
U.S. Virgin Islands
Formerly known as the Danish West Indies of the Kingdom of Denmark–Norway, the United States Virgin Islands are not one of the most accessible Caribbean holiday destinations for American travellers. Lush national parks, picture-perfect beaches, exciting water sports and delicious cuisine — anything you could wish for in a cruise ship port of call. Stay longer and explore beyond the charming town of Charlotte Amalie with its colourful colonial architecture, tax-free shopping and stunning views. The U.S. Virgin Islands consist of three main islands, bathed in the azure Caribbean waters and year-round sun. St. Thomas has pristine beaches and luxury resorts, white sands of Magens Bay, castles and botanical gardens. The largest of the islands, St Croix, has the easternmost point in the United States. Stop by for more colonial architecture of Christiansted and Frederiksted, and get some scuba gear to explore the reefs around Buck Island. Take a short boat ride to the east of St Thomas and see St John. Snorkel the crystal-clear, turquoise waters with sea turtles, rays and brilliantly coloured fish above corals. Crowd-free, white-sand beaches and an enormous national park with numerous hiking trails will guarantee an unforgettable trip. Sun, sea, sand and beach vibes — the U.S. Virgin Islands are your ultimate Caribbean destination.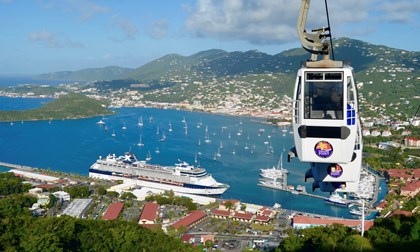 Copyright: Matt Wade/cc by-sa 2.0/Flickr
Exceptional views, numerous historical attractions, delightful shopping opportunities and some of the best Caribbean beaches nearby — that's what Charlotte Amalie is all about. Cruise ship passengers disembark daily to explore the idyllic waterfront, buy Caribbean rum and tax-free jewellery. Imagine the days of pirates while sipping a fruity cocktail, or get to know the colonial past of this 350-year-old city.