Sri Lanka
Copyright: Khoroshunova Olga/Shutterstock.com
Sri Lanka
Just off the southern tip of the Indian Peninsula, between the Bay of Bengal and the Arabian Sea, lies the island country of Sri Lanka. Blessed by a tropical climate and deeply rooted in its Buddhist traditions, Sri Lanka is a country whose rich heritage and scenic landscapes have the power to enchant each and every visitor it receives. The country's commercial capital and largest city, Colombo, is a spellbinding blend of its British-Dutch colonial past and its Buddhist ways, although this is a city of many faiths, with mosques, Christian churches, and a synagogue to vouch for it. Visit the fabulous National Art Gallery, drop by at the welcoming Seema Malaka Buddhist Temple or embark on a Colombo City Tour aboard an open-top double-decker bus with live commentary. A welcome respite from the fast pace of the city awaits at Viharamahadevi Park, a green area with birds chirping from amongst the eucalyptus trees and a large golden Buddha atop a plinth surrounded by spurting jets of water. Alternatively, head down to the waterfront at the Galle Face Green. Here, you can stroll down the promenade and soak in the sweet Sri Lankan sun.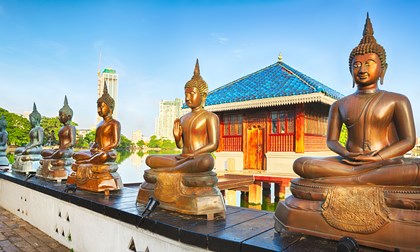 Copyright: Khoroshunova Olga/Shutterstock.com
Colombo is the financial and cultural centre of Sri Lanka, an enchanting island lying off India's southern tip. These city folks go about their daily business with a cheerfulness born of optimism in this noisy and traffic-congested metropolis. But despite being known as a chaotic city, Sri Lanka's capital offers a handful of attractions for first-time visitors, including old colonial buildings, breathtaking religious temples, a beautiful shore, and tasty food.