Peru
Copyright: Christian Vinces/Shutterstock.com
Peru
Located on the west side of the South American subcontinent is the Republic of Peru. Officially one of the world's 17 megadiverse countries, Peru's natural habitats and climates are so varied that, from the Andes mountains to the tropical Amazon rainforest, the country harbours a truly astonishing abundance of biodiversity. On the Pacific coast, the capital city, Lima, is well-known for its colourful colonial architecture and hospitable inhabitants. Venturing inland, the lost city of Machu Picchu greets curious visitors with its iconic Incan stone structures and captivating charm. Not far from this World Heritage Site is another jewel in the Peruvian crown: the City of Cuzco. As the historic capital of the Incan Empire, Cuzco is a town with Spanish colonial influence that, nevertheless, proudly celebrates its Incan heritage. Back on the coast, the beaches of Peru are guaranteed to give satisfactory repose and relaxation to even the most burnt out of travellers. The Peruvian coast stretches out for miles and miles (more than 2,400 km!) so there is absolutely no shortage of seaside destinations where layer upon layer of golden sand meets the gleaming waters of the Pacific.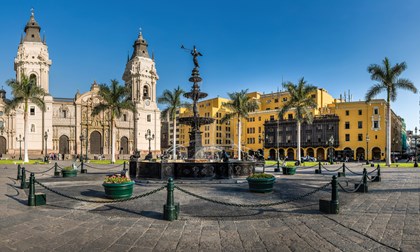 Copyright: Christian Vinces/Shutterstock.com
On the coastline of Peru, fringed by the blue waters of the Pacific Ocean, lies one of South America's best-kept treasures. The vibrant city of Lima reveals itself to the world through the colors of its colonial facades, the flavors of its exquisite gastronomy, but most of all, through the hospitality and warmth of its people.