Oman
Copyright: JPRichard/Shutterstock.com
Oman
Oman provides travelers with the rare opportunity to experience the Arab world without the distorting filter of flaunted wealth and excessive tourism. At the same time, Oman is a pioneer of a modern Arabia that seems to have found the perfect balance between tradition and innovation. Located on the Arabian Peninsula, surrounded by a breathtaking landscape of hot deserts, with a beautiful coastline along the Persian Gulf and overwhelming mountain ranges, lies Oman: an up-and-coming destination that has much to offer.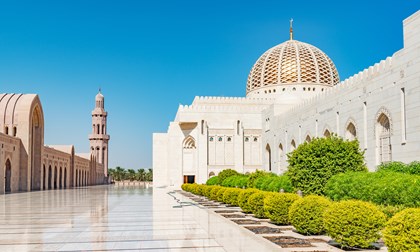 Copyright: JPRichard/Shutterstock.com
Nestled between the imposing Al Hajar Mountains and the salty waters of the Arabian Sea is Muscat, the cosmopolitan Omani capital. Now home to almost half the country's population, the city is an expat's darling and has a lot to offer in the way of historical sights, culture, and entertainment. Muscat has managed to remain relatively concealed from the touristic eye and retains a sense of inwardness and an unspoiled quality long lost by some of its Emirati neighbours.