Martinique
Copyright: Crobard / Shutterstock.com
Martinique
Martinique's most prominent feature is undoubtedly the still-smoldering volcano Mont Pelée, whose eruption in 2001 wiped out the former capital, St-Pierre. What has remained are fertile lands and beautiful natural surroundings, with an incredible variety of landscapes. Martinique gives you the unique opportunity to explore the rainforest, lie on a white sandy beach or hike through the mountains – all in one day. The city life in Martinique's hotspots Fort-de-France and Le Lamentin is vibrant and cosmopolitan, with a delicious culinary scene, influenced by the cuisines of Africa, France and the Caribbean.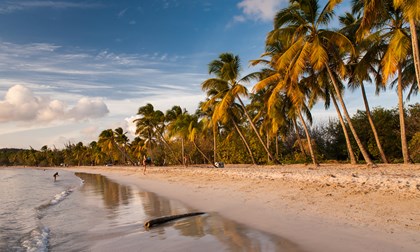 Copyright: Crobard / Shutterstock.com
With its unique mix of Creole culture and European cosmopolitanism, the French overseas territory of Martinique, and in particular its capital Fort-de-France, has just the right blend of tradition and sophistication. A fast-developing city boasting first-class shopping and dining as well as a bustling urban life. But the main draw to this Caribbean island remains its surrounding natural beauty made up of lush tropical rain forests, an active volcanic mountain, and picture-perfect beaches, which have captivated visitors for centuries.