Macedonia
Copyright: RossHelen/Shutterstock.com
Macedonia
The complex history and multi-faceted culture of North Macedonia are influenced by Greek, Roman and Ottoman heritage, all of which come together in a unique way. The incredibly rich nature of this small country has made North Macedonia a popular destination for travellers, the area around Lake Ohrid enjoying a special popularity. Mountain ranges, hiking trails and national parks shape the landscape of North Macedonia alongside the up-and-coming city of Skopje. In the capital of North Macedonia, you can immerse yourself in the culinary and cultural facets of the country and explore the charming old town and modern parts of the city.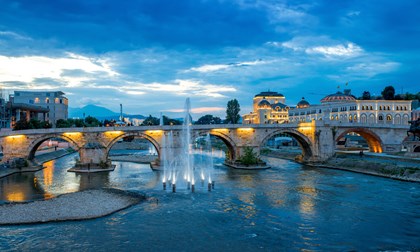 Copyright: RossHelen/Shutterstock.com
Skopje is internationally famous for being the birthplace of Mother Teresa. The city is welcoming and locals demonstrate a hospitable attitude towards visitors. Despite the fairly recent political turmoil in the Balkans, Skopje has blossomed into a thriving, stimulating city to explore, defining itself as an exciting tourist destination.