Ecuador
Copyright: Brendan van Son/Shutterstock.com
Ecuador
With high-reaching Andean peaks, more than 30 volcanoes, dense tropical rainforests, and sandy Pacific beaches, one of South America's smallest countries packs perhaps its widest diversity of landscapes and natural wonders. As such, it is also home to astounding biodiversity, boasting thoUSAnds of varieties of orchid, as well as more bird species per square mile than anywhere else on the continent – all this without even counting the wonders of the Galapagos Islands. Ecuadorian cities like Quito or Cuenca are also home to some of the most beautiful and best-preserved historic centres in South America, dominated by fabulous colonial buildings in a range of pastels; the palm-fringed beaches on the country's Pacific coast call out to surfers and beach-bums alike.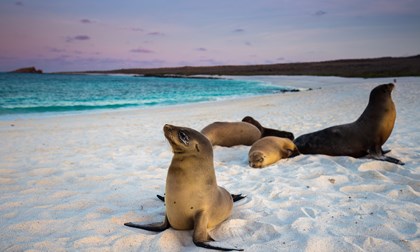 Copyright: Brendan van Son/Shutterstock.com
In 1831, Charles Darwin sailed to South America aboard the H.M.S. Beagle. On the return voyage across the Pacific, the vessel stopped on a small group of islands far off the Ecuadorian coast, changing the course of human scientific endeavour and self-understanding forever. Fascinated by the unique wildlife on the islands, Darwin collected biological specimens and studied them over the next 30 years. His findings led to the formulation of the scientific theory of evolution by natural selection. This small group of islands and their one-of-a-kind wildlife are to thank for one of humanity's most remarkable discoveries. And today, almost 200 years later, they remain a source of endless fascination and a favourite travel destination for scientists, nature and wildlife enthusiasts, scuba divers, and anyone interested in the wonders of the natural world.