Barbados
Copyright: NAPA/Shutterstock.com
Barbados
Barbados is the easternmost island in the Lesser Antilles and inspires its visitors with perfect, endless beaches, tall palm trees and an interesting history. Influenced by many cultures, such as Creole, Indian and West African, the former British colony has a lot to offer. With its relatively small size, it can be discovered on a single trip, choosing the capital Bridgetown as start and end. It has been a beloved destination for some time now – and still attracts visitors with laid-back charm and authenticity.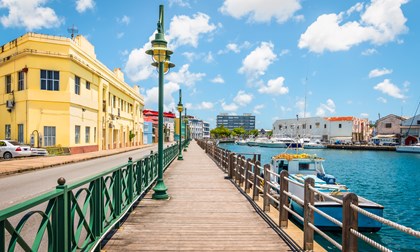 Copyright: NAPA/Shutterstock.com
White beaches, turquoise waters, and lively nightlife — these are images Bridgetown, the capital of the Caribbean island of Barbados, likely conjures up in the minds of most. But Bridgetown is so much more! There's the colonial heritage — its entire downtown is on the UNESCO list, after all — lush forests right outside city limits and an abundance of local and international shopping options. An animated buzz sets in as the sun goes down, inviting one to join the famously laid-back and welcoming Bajans on a night out.