Aruba
Copyright: Natalia Barsukova / Shutterstock.com
Aruba
Aruba's uncrowded white sand beaches are second to barely any other. Benefiting from the warm climate of the Caribbean, Aruba offers an endless array of outdoor activities. Admire marine life and snorkel the breathtaking reefs of Mangel Halto or try scuba diving and explore ancient shipwrecks. Discover Aruba's natural wonders on horseback or on a hike, or take a stroll through the island's capital Oranjestad. It is not surprising that Aruba, with its beautiful all-inclusive resorts and endless opportunities, is the most popular holiday destination in the south Caribbean and a well-established cruise port.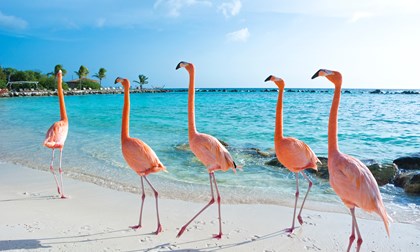 Copyright: Natalia Barsukova / Shutterstock.com
Sun-drenched beaches sit next to the desert wilderness in Aruba, one of the most popular destinations in the Caribbean. With warm and sunny weather all year round, the island seems frozen in a timeless holiday atmosphere, with turquoise ocean waters washing over the soft warm sand. Nightlife bursts with Latin music and exotic sounds, and exciting shopping and dining await at every corner. Stronger waves break against the eastern coast, deserted and swept over by wind — exploring it will lead the most adventurous visitors to spectacular vistas.